We believe that trading should be fun, which is why we're so proud of Botwars – the mobile trading game that gives first time traders and investors an entertaining way to make money. Whether you're new to Botwars (or the world of trading), or have been playing for a while, we've got an exciting announcement for everyone – the launch of our brand new weekly sponsored trading competitions where you can win cash prizes every week.
Botwars Sponsored Trading Competitions allow you to take your trading to the next level, improve your skills and meet other like minded traders, PLUS cash prizes every week.
We're proud to be sponsored by bitFlyer EU, Japan's biggest regulated cryptocurrency exchange, with divisions in the US and Europe. If you'd like to buy or trade bitcoin ahead of the competition then bitFlyer is the place to go, with an excellent reputation for transparency and quality service. The bitFlyer app is available on iOS or Android now.
If you want to know more about Botwars and our exciting new competitions, keep reading.
Botwars Sponsored Trading Competitions
We're excited to announce that, from the 1st June, players can take part in weekly Botwars Sponsored Trading Competitions and win cash prizes.
Competitions are completely free to enter, so what are you waiting for?! To keep things fair, these competitions use a profit ratio system to generate points, meaning that everyone has an equal chance of winning and it's not a case of who trades bigger or who has the most balance, so everyone can make money.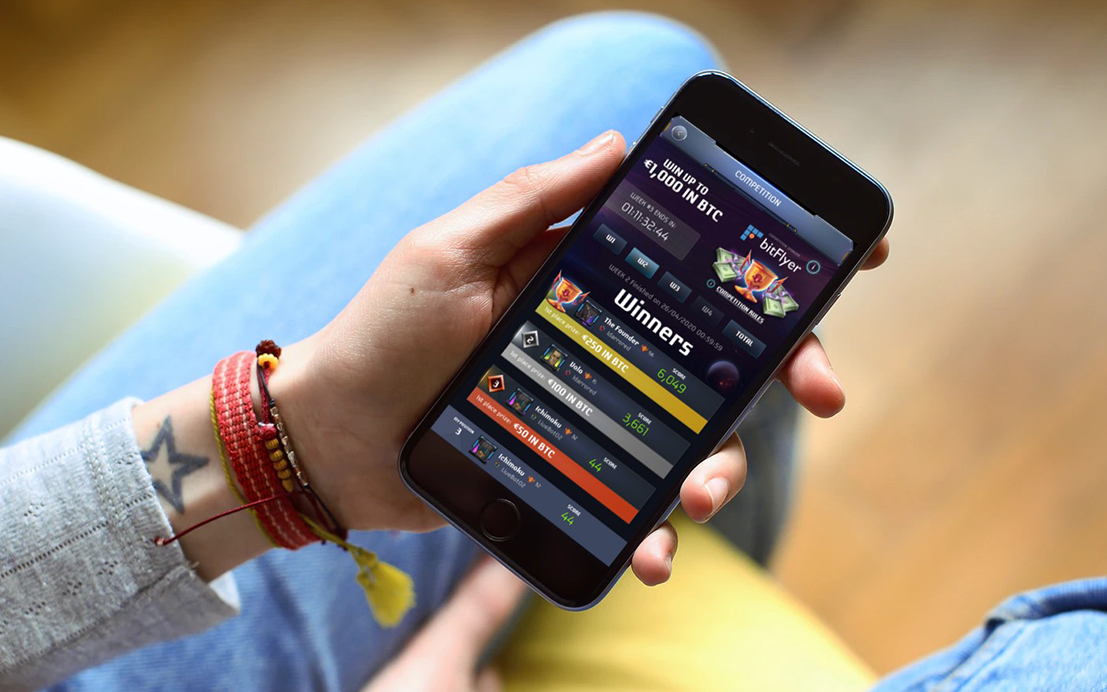 Another bonus is that the competition never sleeps, unlike forex, stock and shares which have certain trading hours each day. Our competitions are run on cryptocurrency markets only, meaning they are live 24/7 during the competition dates, so you can play anywhere, anytime and make money.
Competition terms and conditions
The overall competition runs for 4 weeks, with the main prizes being rewarded for the top 3 players at the end of the period.
You will lose points if you lose trades, so anyone could win/lose at any time.
Each week, there is a mini competition, with the top 3 winners of that week earning cash prizes for topping the leaderboard.
Each new week, the points start at zero. So everyone stands an equal and fair chance of winning every week, if they keep playing.
All prizes are redeemable on our sponsors platform and app and payable in Bitcoin.
Full competition terms and conditions.
What is Botwars?
Made by the team here at Quazard, Botwars is a new hybrid that combines financial trading simulation with an exciting, fast paced strategy game. Players' trading progress is represented by both their financial sum and their level (or level of your captain) in the game.
As you progress, you'll learn new trading skills and techniques which earn you experience (XP) points – these are then used to level up your commander. You can gain XP points even if you lose a battle/trade, so Botwars players are constantly progressing and learning new skills and strategies. View your progress on your personal achievement tree and collect badges for your profile to show your status level to other players. If you want to get started and enter our first competition on the 1st June, download Botwars now, from GooglePlay and Apple App Store. Plus, for competition updates and to connect with likeminded players, follow our Facebook page.